May 20, 2013
Posted by:

Javier González Montané

Category:

Strategy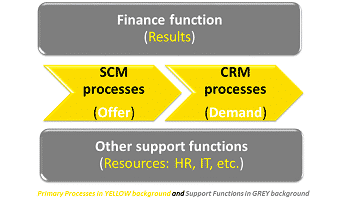 Value chain concept was created in 1985 for Michael Porter. In 1993 Michael Hammer and James Champy brought us the concept of processes that cut across functional organizational structures. Those processes promise dramatic improvements in terms of cost, quality and speed. We are going to review the value chain, processes concept and the impact on the present interest for strategy execution. This review is essential for turnaround situations because improve strategic focus, get cost improvements via processes, and take care of execution issues aligning firm activities.
First at all, we are talking about processes versus functions. Functional Organizational Charts are still very common nowadays. The explication likely is that many functions are not really affected by cross functional processes (for instance Finance, or Human Resources). Although every function is related to other function, there are just a few functions that are able to take really advantage of process approach (dramatic cost, quality and speed improvements). Indeed, there are two main processes in any organization that can take advantage of process approach:
Customer Relationship Management (CRM: Marketing, Sales and Services) that manages the processes to generate demand of our products and/or services.
Supply Chain Management (SCM: Logistics, Production and Procurement) that manage the offer processes. I mean how we are delivering our promised products and/or services to our customers. SAP (the technology firm) offers the possibility of breaking the SCM processes in three processes: Supply Chain Management (SCM), Product Life Cycle (PLM is important for manufacturing companies), and Supply Relationship Management (SRM is important for manufacturing and distribution firms where procurement and purchasing have an important role). However, in this post we are going to consider that we are not breaking SCM processes in order to avoid more complexity.
Adapted Value Chain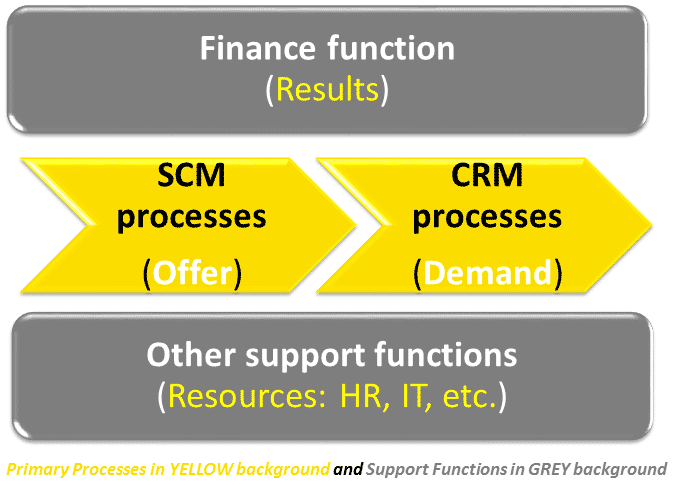 Primary process (Porter said primary activities) must be the focus of the company according to:
Strategy: There are different frameworks to analyze strategy but quite similar in the essence. Let us use the Value Discipline model of Michel Treacy and Fred Wiersema. That model shows us three strategies thrust: Operational Excellence, Product Leadership, and Customer Intimacy. Customer intimacy is CRM related, and the other two are SCM related. Indeed, someone could say for example what about "hiring the best staff for the Human Resources." Well, this could be a Sustainable Competitive Advantage (SCA) but it is not a strategy.
Bringing the full potential of processes approach: To materialize processes' benefits, again we should mainly focus on CRM and SCM processes rather than on support functions/activities.
With a couple of process (CRM and SCM) we cover the activities much important of the firm: We cover the activities to generate demand of our products and/or services (CRM), and the activities to produce and deliver those products and/or services (SCM).
So is this means that the support activities are not important? Obviously the answer is NO. Finance is an important function that shows us how we are performing, but in order to improve the results' actions has to be taken in the CRM and SCM processes. Human Resources is another important function because without the right staff we could not run our process properly, but staff is an enable for our primary processes.
Now we would like to review the strategy execution of the value chain tool. Thus, we are going to show some issues related:
Support function is "support" rather than primary: Basketball teams have a point guard position organizes the team's offense by controlling the ball and making sure that it gets to the right player at the right time. Something similar happens in handball teams with center backcourt players. So all the team members are important but there is a specific position/function that organizes the game. It is important in the company define clearly primary and support roles. As, we have seen before primary role is sharing between CRM and SCM processes. However, we would say that CRM even have a higher role that SCM, because firms start from customers and even SCM has to support those customer related processes.
Structure must be clearly shows the different between primary process and support activities: We must realize that any support area could create an organizational centrifugal force rather than a desired centripetal force. This could happen when a support activity decides to take the role of primary activity, and this is the case of "rock and roll star managers" in support functions. Thus, defining a clear structure could avoid those problems (see the difference between the organizational charts show below). Someone could ask for instance the following question: cannot be the Financial Director a primary role (and Finance function a primary activity)? He could be, but we would have to ask ourselves: Is he having that primary role because we have decided it from a strategic point of view, or because people in charge of the primary processes are not the right people? Be aware that there are companies like DHL that strategically are deciding those functional managers (Finance, IT, HR, etc.) are not able to take country manager positions.
On the top organizational chart without distinction between primary and support activities. Below the organizational chart makes the different between primary and support activities.
Primary processes (CRM and SCM) must be managed with a holistic approach: Those processes involve: different activities, value deployment, people management, and so on. Many initiatives are going to be launched from these processes involving other areas. This does not mean an intrusion rather than primary processes are leading the cross functional processes. For instance: customer profitability analysis, activity base costing to manage product costing properly, six sigma initiatives to improve quality and cost to serve customers, change in cost centers to understand much better product cost behavior, and so on.
Support functions must adapt their procedures to primary processes needs in case of conflict: If primary processes have to adapt to support processes, we have a sign that it could be an execution strategy problem. Sometimes we could realize that people in support activities create the quite common "functional silos." E.g. Finance function that rather than suggest new kaleidoscopic approach to costs (quality costs, lean costs, etc.,) they decide that those operational approaches are not necessaries; Quality function that rather than suggest incorporating in procedures time commitment to compete on time and service, they argue that this dimension is not necessary; etc.