July 28, 2013
Posted by:

Javier González Montané

Category:

Strategy
John Hagel III and Marc Singer (1999) defining the core business types (infrastructure management, customer relationship management and product innovation) got a similar conclusion that Michel Treacy and Fred Wiersema (1992) in their work about the value disciplines (operational excellence, customer intimacy and product leadership). They show that there are three main different strategies, I mean to focus on cost, customers or product innovation. Perhaps the only different between the two approaches is that the value disciplines study mentions that there are a very few companies that are able to excel in more than one discipline, although the recommendation is focusing in just one (industry leaders used to focus on just one discipline). While John Hagel III and Marc Singer say sharply that "Scope, speed, and scale cannot be optimized simultaneously. Trade-offs have to be made."
Let see a brief explication of the three core business types:
Infrastructure Management: Build and manage facilities for high volume, repetitive operational tasks. High fixed costs make large volumes essential to achieve low unit costs. Stresses standardization, predictability and efficiency.
Customer Relationship Management (CRM): Identify, attract, and build relationships with customers. High cost of customer acquisition make it imperative to gain large wallet share. Highly service oriented.
Product Innovation: Conceive of attractive new products and services and commercialize them. Early market entry enables charging premium prices and acquiring large market share.
Core Business Types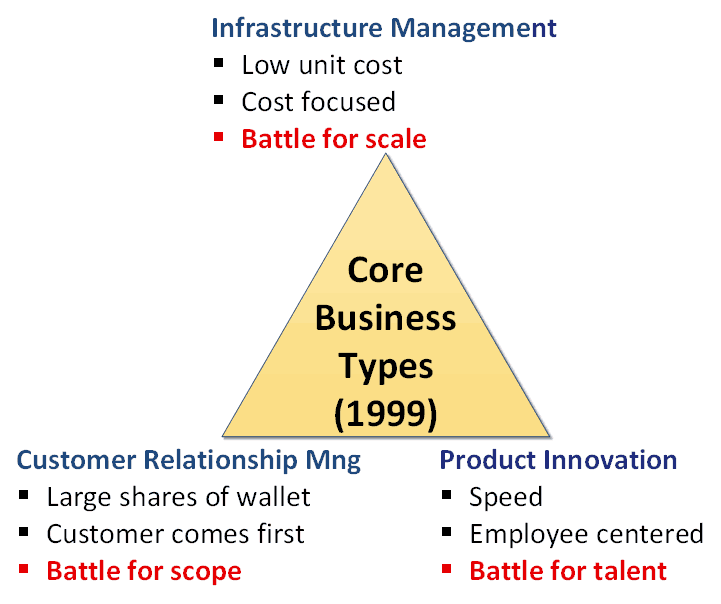 Infrastructure management and customer relationship management are based on volume (economies of scale and economies of scope). So consolidation of a few big players would be a consequence to create the necessary volume to compete in those core businesses.
It is important to highlight that the authors of the core business types recommend outsourcing processes. They suggest outsourcing to maintain firms focus on their core business at the same time that they reduce cost by using specialized firms.