November 2, 2012
Posted by:

Javier González Montané

Category:

Strategy
According to Michel Treacy and Fred Wiersema company strategy must be focused on one of the three value disciplines (operational excellence, customer intimacy or product leadership) while meeting industry standards in the other two disciplines. The experience shows that leaders in their industries have usually done focusing business rather than broadening it.
The three value disciplines
Operational excellence: Reliable products or services at competitive prices and delivery with minimal difficulty or convenience.
Customer intimacy: Detailed customer knowledge with operational flexibility so they can respond quickly to almost any need, from customizing a product to fulfill special requests.
Product leadership: Produce a continuous stream of state-of-the-art products and services that consistently enhance the customer's use or application of the product, thereby making rivals' goods obsolete.
The Three Value Disciplines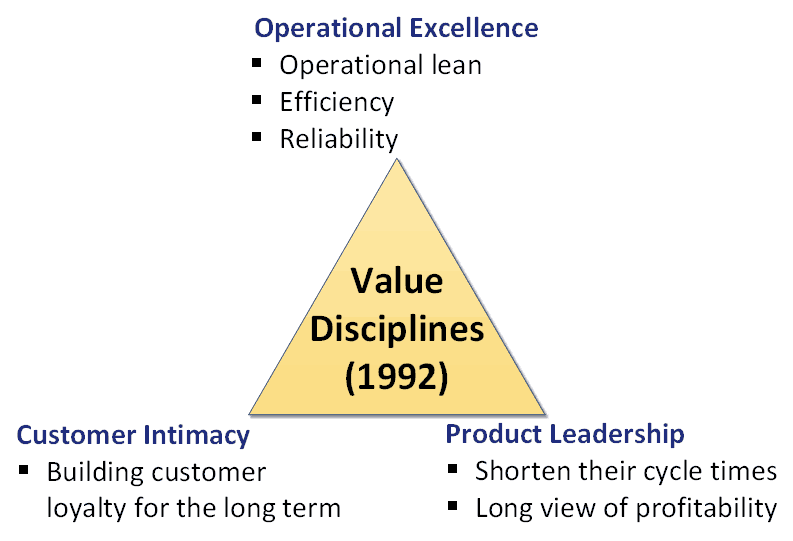 From the supply chain point of view is very important to have a clear strategy definition because each value discipline means a different and almost incompatible supply chain. For example, customer intimacy strategy would likely push a company to create "important" stock points in order to serve customers better and faster. On the other hand, an operational excellence strategy would probably look for a lean approach using more intensively cross-docking rather than distribution centers to reduce stock.
From the turnaround perspective, usually the approach is going to be operational excellence because of first at all it has to be guaranteeing the survival of the company and be avoiding the insolvency risk in the short-term. Be aware that customer intimacy and the product leadership are long-term strategies and in turnaround situation time is a scarce resource.